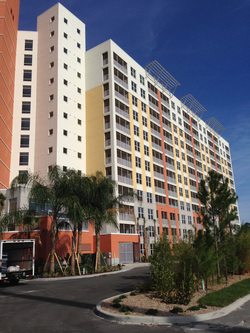 Vacation Village Building 20


We are finishing up Building 21 (pictured here) , a 348 unit, 13 story time share building and are excited to announce that we have just been contracted to provide the windows for Building 20, which breaks ground April 7, 2014.

The EAS EarthWise Single Hung window has been selected for optimal performance and energy efficiency.







The responsible choice
.
Manufactured close to home, engineered specifically for your local climate, and Made in USA Certified.
The dependable choice.Featuring a national warranty backed by 15 independent manufacturers and the Good Housekeeping Seal.
The sustainable choice.Designed to meet the highest energy standards in the industry, including those set by Energy Star and the National Fenestration Rating Council.
The Wise Choice.™Combining exceptional design with outstanding performance, Earthwise products provide the optimum combination of beauty, efficiency, security and value for today's educated consumer.
The Single Hung, used in this application is traditional‐style window that opens by raising the bottom sash. The top glass is fixed in place.
Fixed meeting rail provides superior structural stability
Easy installation due to fewer moving parts
Excellent performance ratings